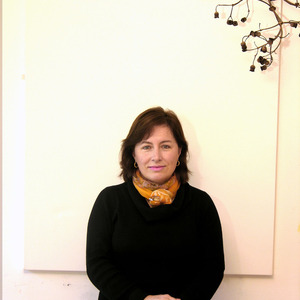 Lorenza Panero is an international visual artist working in New York and Miami, and based in Bogota, Colombia.

Drawing inspiration from the exuberant natural landscape and topography of Colombia, Panero creates light-filled images which reflect her exploration of the force of memory and its relation to language. Using a meticulous mark-making process, she builds series of works that speak of the intimate and the public in the context of personal and collective storytelling. As such, her work finds a place alongside landscape and abstraction, consistently describing space and its effect on the individual.

Her projects demonstrate a profound experience and professionalism in working on small as well as large scale projects and public art. From concept to development and execution Panero works hand-in-hand with different teams including architects, planners, and scientists.

Her work is in several private and public collections, including the Colombian Coffee Federation, Banco de Occidente and Bank Gibraltar, Casa de Poesía Silva, and the Icon Building by Philippe Starck in Miami. She has exhibited in Colombia and the US, with over 20 solo shows.

2018 marks a renewed push into large scale projects, including public installation, graphic portfolios, and the continued work on a decisive anthology of her work.
CURRICULUM VITAE
PERSONAL
Born in New York, educated in Colombia, New York and Europe, BFA (Bachelor of Fine Arts) in Industrial Design from the Rhode Island School of Design (RISD) in 1981, MFA (Master of Fine Arts) 1992 from Hunter College in New York. Ample experience living abroad, including Rome, Barcelona, Washington, New York, and Bogotá where the artist resides at present.
CONTESTS
THE OTHER ART FAIR
2018
By Saatchi Art, May 3-6, 2018, Brooklyn Expo Center, Brooklyn, NY
RISE ART PRIZE
2018
Shortlisted
SOLO EXHIBITS
NO.55
2017
Private Viewing Pop-up Event, New York, New York
ETERNO VERANO
2016
Galería Sextante, Arte Dos Gráfico, Bogotá, Colombia
LONG SUMMER
2015
The Americas Collection, Coral Gables, Florida
MONOTIPOS
2014
ArtBo Feria de Arte, Arte Dos Gráfico, Bogotá, Colombia
ORÍGENES
2013
Galería Sextante, Arte Dos Gráfico, Bogotá, Colombia
SECRETO
2010
Galería Sextante, Arte Dos Gráfico, Bogotá, Colombia
TELEGRAMA –TRAVELING INSTALLATION
2008-2010
Museo Bolivariano, Santa Marta, Colombia

Museo de Arte Moderno, Cartagena, Colombia

Casa de la Aduana, Barranquilla, Colombia
PARAÍSO
2006
Galería El Nogal, Bogotá, Colombia
LUMINISCENCIAS
2005
Artecámara, Cámara de Comercio de Bogotá, Colombia
SILENCIO
2004
ArteConsultores, Bogotá, Colombia
DESIRE
2004
Florida International University, North Miami, Florida
AGUA
2004
Centro Cultural del Brasil, Bogotá, Colombia
NORTHERN LIGHT
2003
Kracer Gallery, Miami, Florida
NATURA
2002
ArteConsultores, Bogotá, Colombia
EL AMOR ETERNO
2000
Centro Venezolano de Cultura, Bogotá, Colombia
LAS ESTACIONES DEL ALMA
1999
Sextante Galería, Bogotá, Colombia
SECOND SKIN
1993
Times Square Gallery, Hunter College, New York, New York
SECOND SKIN & MEMORIAS DE LA GUERRA
1993
Galería Diners, Bogotá, Colombia
OBRAS RECIENTES
1989
Galería Iriarte, Bogotá, Colombia
LORENZA PANERO
1985
Galería Trazo, Bogotá, Colombia
GROUP EXHIBITS 
(selection)
2018
LE SM´ART
, Aix-en-Provence, France 17-21 May
ALG Contemporary Art
YIA
, Paris, France 18-21 October
ALG Contemporary Art
2015
FOTOGRÁFICA BOGOTÁ
, FOTOMUSEO, Bogotá, Colombia
2013
ENCOUNTERS, A DIALOGUE BETWEEN COLOMBIAN AND INTERNATIONAL PHOTOGRAPHERS
, Beatriz Esguerra Art, Bogotá, Colombia
2007
FLASH
, The Americas Collection, Coral Gables, Florida
SOLIDARTE
, Galería El Museo, Bogotá, Colombia
PINTEMOS JUNTOS POR COLOMBIA
, Matamoros Corporation, Bogotá, Colombia
2006
FLASH
, The Americas Collection, Coral Gables, Florida
COLEGIO DEL CUERPO
, MAMBo, Museum of Modern Art, Bogotá, Colombia
PINTEMOS JUNTOS POR COLOMBIA
, Matamoros Corporation, Bogotá, Colombia
SOLIDARTE
, Galería El Museo, Bogotá, Colombia
POR AMOR AL ARTE
, Galería El Museo, Bogotá, Colombia
MENORAH
, Galería Alonso Garcés, Bogotá, Colombia
2005
ARTBO-FERIA DE ARTE DE BOGOTA,
Galería 301, Maracaibo, Venezuela
LA PRIMAVERA DEL MAMBO
, Museum of Modern Art, Bogotá, Colombia
EL COLOMBO SE ENGALANA
, Centro Colombo-Americano, Bogotá, Colombia
PINTEMOS JUNTOS POR COLOMBIA
, Matamoros Corporation, Bogotá, Colombia
SOLIDARTE
, Galería El Museo, Bogotá, Colombia
2004
PHOTOGRAPHY PLUS
, The Americas Collection, Coral Gables, Florida
POR AMOR AL ARTE
, Galería El Museo, Bogotá, Colombia
COLECCION ARTE
, MAMBo, Museum of Modern Art, Bogotá, Colombia
PINTEMOS JUNTOS POR COLOMBIA
, Matamoros Corporation Bogotá, Colombia
INAUGURAL
, GDS Galería, San José, Costa Rica
ART PALM BEACH CONTEMPORARY ART FAIR
, Felipe Grimberg Fine Art, Florida
MARIPOSA
, Corazón Verde Foundation, Bogotá, Colombia
2003
DOUGLAS DIBBLE MEMORIAL ART AUCTION
, Times Square Gallery, Hunter College, New York
COLECTIVA
, MAMBo, Museum of Modern Art, Bogotá, Colombia
SALON DE LA PALMA
, Centro de Convenciones, Cartagena, Colombia
REPLANTEAMIENTOS
, Universidad de Salamanca, España, Bogotá, Colombia
ALIENTO
, Universidad de Salamanca, España, Bogotá, Colombia
IMAGENES INTERVENIDAS
, Fundación Santillana, Bogotá, Colombia
2002
ALMA DE INTEGRACION
, CAF Galería, Caracas, Venezuela
ART PALM BEACH CONTEMPORARY ART FAIR
, Felipe Grimberg Fine Art, Florida
MURALES
, Children's Museum, Bogotá, Colombia
MENORAH
, Galería Alonso Garcés, Bogotá, Colombia
ARBORIZARTE, I & II
, Fundación Corazón Verde, Bogotá, Colombia
2001
LOS ARTISTAS Y EL PAPEL DE FIQUE DE BARICHARA
, Centro Venezolano de Cultura, Bogotá, Colombia
PAPEL DE BARICHARA
, BID, Interamerican Development Bank, Caracas, Venezuela
1998-2000
PROYECTO MAPA -TRAVELING EXHIBITION

Contemporary Art Museum of Zulia, Maracaibo, Venezuela
Sextante Galería, Bogotá, Colombia
Jacobo Borges Museum, Caracas, Venezuela
Museum of Modern Art, Medellín, Colombia
Centro Venezolano de Cultura, Bogotá, Colombia
1999
PORTAFOLIO
, Museo del Páramo, Bogotá, Colombia
1994
PASSION -TRAVELING EXHIBITION
Peconic Gallery, Riverhead, New York
Rathbone Gallery, Albany, New York
1992
COLECTIVA
, Gaula Galería, Bogotá, Colombia
1991
GROUP SHOW,
Times Square Gallery, Hunter College, New York
1990
SALON NACIONAL DE COLOMBIA
, Bogotá, Colombia
1986
GROUP SHOW
, Vermont Studio Center, Johnson, Vermont
PUBLIC COLLECTIONS
 (selection)
Global Seguros S.A., Bogotá, Colombia

Colombian Coffee Federation, Bogotá, Colombia
Banco de Occidente, Bogotá, Colombia
Corporación Clínica del Country, Bogotá, Colombia
Casa de Poesía Silva, Bogotá, Colombia
Museo del Claustro de Santa Marta, Colombia
Centro Colombo-Americano, Bogotá, Colombia
Colección Revista Credencial, Bogotá, Colombia
Florida International University, Miami, Florida
Icon Building, Philippe Starck, Miami, Florida
Bank Gibraltar, Coral Gables, Florida
Fundación San Lorenzo de Barichara, Colombia
Fundación Corazón Verde, Colombia
Consulado General de Colombia, Nueva York